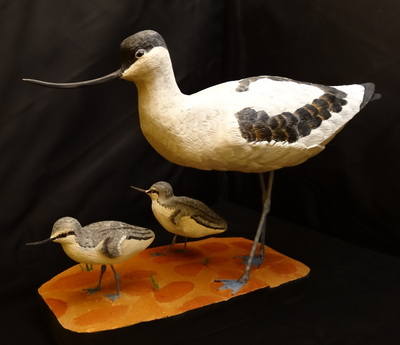 Avocet and two chicks
Avocet and two chicks on carved and painted base
All carvings are original and this carving has now been sold. Please use the Contact Us link to request a similar carving.
Height: 26 cm
Width: 32 cm
Each painted piece is carved by hand. A pyrograph tool is then used to give texture to feathers. Finally the piece is carefully painted with acrylic watercolour.
A distinctively-patterned black and white wader with a long up-curved beak. It is the emblem of the RSPB and symbolises the bird protection movement in the UK more than any other species. Its return in the 1940s and subsequent increase in numbers represents one of the most successful conservation and protection projects.
2608100