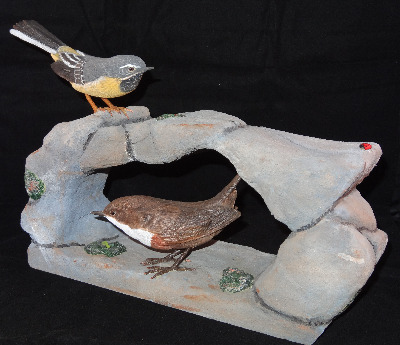 Grey Wagtail and Dipper
Painted Grey Wagtail perched on rocks with Dipper underneath.
Height: 24 cm
Width: 36 cm.
Each painted piece is carved by hand. A pyrograph tool is then used to give texture to feathers. Finally the piece is carefully painted with acrylic watercolour.
The grey wagtail is more colourful than its name suggests with slate grey upper parts and distinctive lemon yellow under-tail. Its tail is noticeably longer than those of pied and yellow wagtails.
Dippers are short-tailed, plump birds with a low, whirring flight. When perched on rocks they habitually bob up and down and frequently cock their tails. Their white throats and breasts contrast with dark body plumage. The birds are found along fast-flowing rivers, mainly in upland areas but also on lowland rivers in Sout West England.
1933621